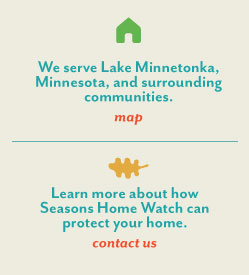 We can handle any situation — 24 hours a day, 7 days a week.
If a Seasons Home Watch professional finds trouble during a review of your home—or if we encounter an emergency—we stabilize the situation immediately. When a problem requires your attention, we call you to discuss the options.
If work needs to be done on your home, we can make arrangements with your preferred contractors. We can also refer you to licensed, bonded vendors who have the same high standards we've set for ourselves. In addition, we can obtain bids and ensure that all work is done to your satisfaction, as quickly as possible.
In the rare event that we find a crime has occurred, we call 911 immediately. Then we contact you to discuss the situation.
At every step of the way, we make sure that your home is secure.
---